Message From Athletics
By Christine Stapleton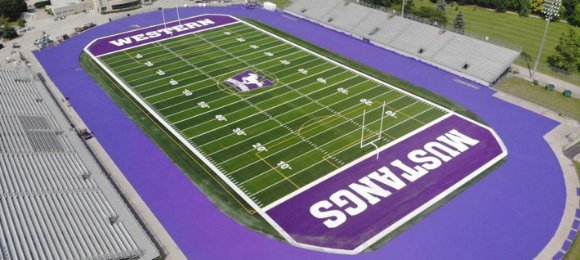 Ontario University Athletics (OUA) has announced a plan for return to university sport competition in the fall, and Western has reaffirmed its commitment to sport and the return to in-person play. I couldn't be more thrilled. There is now a path for return to sport this fall, and sights are set on providing competition for the 2021-22 OUA season.

I am very grateful for the university's strong support throughout the pandemic, and feel the Western Mustangs are well-positioned to resume in-person training and regular sport competition, while continuing to prioritize the health and safety of our student athletes.

Over the past year, as you are aware, the Western Mustangs have continued to train virtually, working diligently to follow COVID-19 protocols. As Ontario has moved into Stage 3, we are so excited to resume regular in-person training, in line with Ontario's reopening framework.
We are one step closer with the recent announcements by the Ontario University Athletics (OUA) of the Fall 2021 Sports Schedules. Many different team schedules were announced in recent weeks, including Football, Field Hockey, Men's and Women's Soccer, and Women's and Men's Rugby, Men's and Women's Hockey, Women's and Men's Basketball and Men's and Women's Volleyball. and included some changes such as slightly reduced games schedules, and more regionalized competition to start. You can find all the schedules that have been announced at www.westernmustangs.ca
Western has not yet confirmed tickets or game day details, so watch our website for more details as they become available.
Western has also been investing in significant sport facility upgrades over the past several months, and construction on many of these projects is currently underway. We have posted photos on our social media of the new turf, which looks amazing. We are also currently working on major improvements to the stadium lights, bleachers, and track, as well as upgrades to Thompson Recreation and Athletic Centre.

For more information about the OUA's announcement about returning to competition, please visit: Ontario University Athletics (OUA) Announces Plan for Return to Sport Competition in the Fall - Western Mustangs Sports
As we prepare for the return to campus this fall, Western and affiliated colleges Brescia, Huron and King's have introduced a new COVID-19 vaccination policy: all students, staff and faculty who plan to be on campus this fall will be required to demonstrate proof of vaccination. The university is taking a further step for higher-risk activities by requiring vaccination for students on work and clinical placements, in music programs, as well as for varsity student-athletes, coaches and team staff. Exemptions will be provided on grounds protected by the Ontario Human Rights Code. For more information, visit: Western News - Western to require proof of vaccination for campus community (westernu.ca)
We are also thrilled that the Mustangs were so well represented at the Tokyo Summer Olympics. Visit our article: Mustangs Prepare for the Upcoming Tokyo Summer Olympics - Western Mustangs Sports to read more about who from our incredible Mustangs community represented us this year.

As always, I would encourage you to follow us @WesternMustangs on Instagram, Facebook and Twitter for all the latest Mustangs sports news.
Welcome back Western Mustangs Athletic Alumni. It's an exciting time for sport at Western and we can't wait to welcome students and fans back to our games.
Christine Stapleton,
Director, Western Sport and Recreation