Toying with success
By David Scott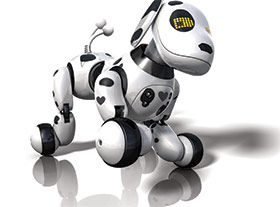 Ben Varadi, Anton Rabie and Ronnen Harary defy the definition of a 'normal' partnership. Then again, being "a bit too unorthodox" has helped this trio of 1994 Western grads find worldwide success with Spin Master, an international kids entertainment company, which now employs more than 900 globally.
"Yes, they are a perfect complement to each other and many people will say that. Honestly, it's a perfect three-headed monster," said Chris Harrs, BA'85 (English), LLB'88, executive vice-president and general counsel for Spin Master. "I think if any one of them weren't there, it would have broken up years ago." Harary and Rabie have been side-by-side since they were 11 years old – summer camps, high school and, later, university.
While at Western, they created their first business together, Campus Faces, a poster company. They made a profit selling advertising along the side of posters and expanded their market over three years.
"That's when we got to know that we loved working together. We had common values, we wanted to build something together," Rabie said.
By their final year of university, the venture had grown to a cross-Canada business at six other campuses. Varadi and Rabie, who both earned HBAs from Ivey Business School, got to know each well from first to second year at Ivey. "Benny and I developed a very wonderful, natural, fun, real friendship together," Rabie said. "One of the things Ivey gave us was a base understanding on every little area of the business. On operations, it taught us the basics of throughput and cycle time."
"It gave us great contacts and peers," Varadi added. Harary, who earned a BA in Political Science, didn't know the eclectic Varadi during their time at university. Varadi studied Political Science before committing to his HBA; Harary took two business courses at Ivey.
The trio came together post-graduation for Earth Buddies, a grass seed-filled pantyhose head toy that grew 'hair' when watered. Harary's grandmother brought a few back with her from a trip to Israel and said the environmentally friendly toy was a hit.
Harary decided to make 5,000 pieces for Mother's Day "to see how things go."
He approached Rabie, interviewing at the time for a job at Proctor & Gamble, to help with the one-time venture. Earth Buddies sold well. And then it snowballed. Soon after rolling it out, the pair received an order from Wal-Mart Canada for 26,000 units.
"We had to figure out how to manufacture it. That's where Ben comes into it. We needed a candidate to run the factory," Harary said. "Anton called him up and said, 'Ben, do you want to come and join the company and run this part of the business?' "
At the time, Varadi was interviewing at Toronto ad agency Leo Burnett. After an intense 24-interviews-in-a-day candidate blitz, the company declined to hire him because, according to them, he was "a bit too unorthodox." They suggested he try the "creative side" of the industry.
So he did. Varadi took a chance with his Ivey friend's business, but he set a time limit for Earth Buddies. Rabie recalled, "He said, 'I'll do it for nine months, then I'm going to do something else.'"
But Varadi stayed on.
The trio eventually set up shop in the King/Bathurst area of Toronto, hired staff and delivered on their orders. Within nine months, they'd sold 1.5 million pieces.
It was the beginning of a beautiful partnership. And you can again credit that success to being "a bit too unorthodox" for their industry.
At that time, Canadian toy company business models were to take American or European products and distribute them in Canada. Spin Master spun that around.
"We said we want to design and develop our own products here in Canada and sell them to the rest of the world," said Harary. "And, predominantly, our focus was the United States, because it was so close to Toronto." That simple-yet-bold approach charted the course of the company.
The first toy the company produced was Devil Sticks (gravity sticks or juggling sticks). Then they took it to the annual Hong Kong Toys & Games Fair in January 1995. At that show, they developed relationships with distributors in every country around the world.
In February 1995, they sold Devil Sticks to Toys 'R' Us and K.B. Toys.
Over the years, Spin Master has developed its own toys by thinking differently than the rest. Take Air Hogs, for example.
Created in 1996, Air Hogs is a line of toy vehicles developed when British inventors John Dixon and Peter Manning approached Spin Master with a prototype of a compressed air-powered toy airplane that had been rejected by everyone. Excited by the plane's potential, Spin Master licensed the technology and spent two years – and a half million dollars – perfecting the toy.
Spin Master has acquired established toy brands during its 20-year history including Spy Gear and, more recently, the 116-year-old Meccano product line (often known as an Erector Set) in 2013.
In 2007, Spin Master's breakout product combined an action figure, board game and trading card game. Bakugan was formed through a partnership between Spin Master, Sega Toys Ltd., Nelvana Enterprises Inc., TMS Entertainment, Japan Vistec Inc. and Sega Corporation.
Bakugan became an instant success after its 2008 launch in the United States. It was declared the breakout hit of the toy industry receiving numerous awards including three 2009 TOTY awards for Boy Toy of the Year, Property of the Year and Toy of the Year, the industry's most prestigious award.
That success put Spin Master on – or, more precisely all over – the toy industry map. Aside from its headquarters in Toronto, Spin Master now has offices in Los Angeles, Hong Kong, China, Tokyo, Italy, Paris, the UK, Germany, the Netherlands, Slovakia and Mexico.
"Any which way you look at the company it's very global," Rabie said. "Our mindset, our people, our sales."
Building upon its success in content development with the Bakugan TV Show, Spin Master launched an entertainment division in 2008 focused on design, development and production of cross-media entertainment properties.
Spin Master has landed 15 of the coveted TOTY awards. Business accolades continue to roll in like reaching platinum status of Canada's 50 Best Managed Companies, Fast Company 50 Most Innovative Consumer Products Company and Ernst & Young Entrepreneur of the Year Award.
In today's international toy market, only American toy giants Hasbro (Monopoly, GI Joe) and Mattel (Barbie, Hot Wheels, Fisher Price), and the iconic Danish company Lego, are bigger than Canadian Spin Master.
But with increased international success has come the ultimate in flattery – imitation. Spin Master contends with regular lawsuits against counterfeit versions of their most popular brands.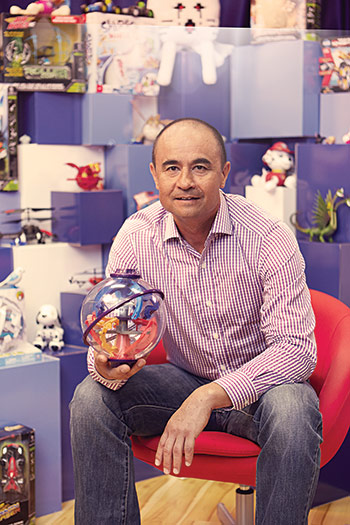 "The funny thing is, you know you're successful when you're fighting a lot of counterfeits," Harrs said. "We have Bakugan. We must have shut down 45 factories in China, all doing counterfeits. That's how extensive it is. That's a billion dollar franchise."
Rallied by its 'Innovating fun every day' motto, Spin Master accomplishes that by continuing to work closely with inventors.
"An inventor is the ultimate risk-taker on Earth," Varadi said. "In a way, our risk level is not nearly as big as theirs because we see multiple inventions from multiple people. They are getting behind the one thing they themselves invented.
"When you think about it, that's a lot of risk."
Spin Master is the kind of company where the partners complete each other's sentences and challenge one another at executive meetings. When he first started at Spin Master as general counsel, Harrs thought "this is a mad house."
To the English and Law alumnus, it was "fun but it was crazy." "Ben will jump up on a table and start screaming or he'll make fun of something. You wouldn't find that at another company. It's privately owned. It's like a fraternity.
Imagine if frat brothers were running a company?" If Ben is the creative class clown who finds a kindred spirit with eccentric inventors, Rabie is the pacesetter who keeps them in line. He is the partnership-builder who brings in new businesses. Harary is the classic entrepreneur – half creative, half business. All bring strengths to the table and complement each other.
"Since Day One, we always said we'll try to grow the business as big as we possibly can," Harary said. "But let's do it in a very focused way. We've gradually expanded… It hasn't been a radical expansion; it's been a natural evolution with a global concept. But I do attribute Anton's and Ben's Ivey schooling to having a good focus on what are your core competencies."
Rabie agreed, "We've never been taken off our core in 20 years."