Remembering Craig Sandre, BA'16
By Jason Winders, MES'10, PhD'16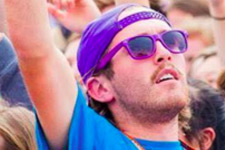 Friends and family of the late Craig Sandre, BA'16, are hoping members of the Western community will join them in preserving the memory of the popular young student one kilometre at a time.

On Sept. 9 and 10, participants in the Ride for Craig will bike 160 km from Oakville to London to raise money for the Craig Sandre Soph Support Fund.
Sandre was in his fourth year as a Social Science student when he died from suicide on Nov. 15, 2015. He was 21 years old. He was well known on campus from being an Orientation Leader for Medway-Sydenham Hall and a member of the Social Science Soph team.

He was also not unlike one in five Canadian postsecondary students who experience mental-health challenges.

Established by his family in May 2016, the Craig Sandre Sophs Support Fund provides funding for mental health and wellness services to our most dedicated student ambassadors – known as Sophs.

Initially, the fund was expected to provide funding for these programs until 2021. However, an outpouring of support is pushing the fund within reach of something special. With further support, particularly because of what will be raised through this ride, the fund will be guaranteed to provide annual, stable funding for these important programs.

Donations may be made at the Ride for Craig website or through a special pledge page established by Western.