Western celebrates national championships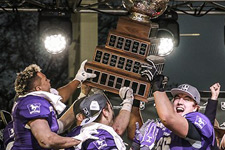 The Western Mustangs ended a 23-year Vanier Cup drought with an exclamation mark, knocking off the defending champion and No. 1 nationally ranked Laval Rouge et Or 39-17 in the Canadian university football championship game November 25 at Tim Hortons Field in Hamilton.
It marked the seventh Vanier Cup for Western in program history and served to avenge the Mustangs' 2008 loss against Laval in the championship game also played in Hamilton that year. Western's last national championship victory came in 1994 against Saskatchewan.
Western's quarterback Chris Merchant of Calgary captured the Ted Morris Trophy as the Vanier Cup's most valuable player rushing for two touchdowns and tossing another in the victory. He finished with 365 all-purpose yards completing 13 passes on 20 attempts for 276 yards while adding 89 on the ground.
A campus community celebration took place on campus on November 30 to recognize the outstanding efforts of student sport teams, including the Vanier champs. A walking parade led by the Western marching band and including the Mustangs football team escorted athletes from Alumni Hall to the Mustang Lounge at the University Community Centre. There, the following teams were honoured: Men's Football – USPORTS – Vanier Cup champions; Men's Tennis – Canadian University Tennis Championship – champions; Women's Softball – Canadian Collegiate Softball Association champions; Men's Lacrosse – Canadian University Field Lacrosse Association champions; Women's Rowing – Canadian University Rowing Championship – champions; and Cheerleading – PCA National Champions 2017.
Later that afternoon, teams boarded buses for London's City Hall, where they enjoyed a red-carpet welcome led by Mayor Matt Brown.