Legendary 'Shoe' a perfect fit for alumnus
By Paul Mayne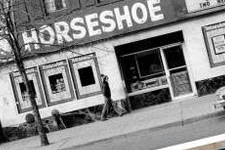 Compared to the glitzy night clubs of the GTA, the Horseshoe Tavern can be off-putting to some people. David McPherson, BA'96, MA'98, freely admits this about his favourite haunt.

The Queen Street icon is dark, cramped, and generally a bit rough around the edges. And while structures in and around its neighbourhood have transformed into hipster coffee shops and trendy bistros, 'The Shoe' hasn't changed much as it prepares to celebrate its 70th anniversary next month.

In his soon-to-be released debut book, The Legendary Horseshoe Tavern: A Complete History, McPherson strikes the 'write chord' by explaining how the former 1861 blacksmith shop became a music-lover's paradise, with acts running the musical gamut, from country, rockabilly and rock 'n' roll, to punk, roots and new wave.

"It's not as big as it once was – it used to be double the size – but in terms of the interior, the vibe, the feel, it's what the clientele wants," said McPherson, BA'96, MA'98, whose love for writing about music began back in the late-1990s as Entertainment Editor for the Gazette student newspaper. "It's not about the physical beauty and the fancy cocktails; it's all about the passion of the people who have run it, the people who go there and the music that is showcased."

The Shoe is a pilgrimage destination for those who love and understand its significance as part of Toronto's rich musical history, he explained.

"Dependable is a great way to describe it. A lot of it has to do with the people who have run it over the years," said the 44-year-old McPherson. "They are music lovers, from the original owner Jack Starr, to the owners that have taken it on since. They have all brought that same passion and all are about giving musicians the chance to shine. That's why it has survived."
It was 1947 when longtime owner Jack Starr took advantage of the new provincial liquor laws by converting the property into a restaurant/tavern. The first lights didn't hit the musical stage until the mid-1950s when the 500-seat live music venue featured country acts the likes of Willie Nelson, Conway Twitty, Loretta Lynn and, later on, gave Canadians their first taste of Stompin' Tom Connors.

Starr retired in the early 1970s and the Horseshoe soon introduced Toronto to punk and new wave music like The Cramps, The Ramones, Talking Heads, MC-5 and brought a still unknown U.K. band, The Police, to Canada for the first time.

After becoming a strip club for a short time, the Horseshoe returned to its musical roots in the late-1980s and 1990s, offering up-and-coming Canadian acts a chance to carve out a space for themselves, including The Watchmen, The Odds, Amanda Marshall, The Tragically Hip, Lowest of the Low, Great Big Sea, Nickelback and Blue Rodeo, whose lead singer, Jim Cuddy, wrote the foreword to McPherson's book.

McPherson "came a little late" to the Horseshoe, having moved to Toronto in the late-1990s after graduating from Western. But it didn't take long before he would make the 20-minute trek from his Don Mills home to downtown Toronto on a regular basis.

Hundreds of ticket stubs later, it's still in his blood.
"I've always loved live music," he said, recalling his first time checking out Texas country/punk band The Old '97s. "I read about the Horseshoe somewhere and thought to myself, 'That sounds kind of interesting and kind of cool.' I went and checked it out and I was hooked. It's a place where you can go and discover new music and check out your favourite bands. It has been a place that has nurtured so many over the years."

For his book, McPherson spent the better part of two years digging through newspaper archives, talking with owners, chatting with the many musicians who have graced the Horseshoe stage and attended a few more concerts.

"I knew there had to be so many stories to tell. It just seemed like the natural thing to do," he said. "The book was a labour of love from a research point of view and I just kept going and going until my wife said, 'You know you have to start writing this at some point.' Maybe it (interviews/concerts) was a way for me to procrastinate, like a typical writer, but it was just a fantastic experience."