Alumnus is CBC's newest Dragon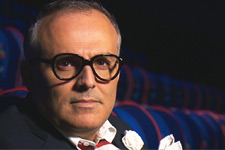 Cinema mogul Vincenzo Guzzo, BA'91 (Economics) has joined the new season of CBC's Dragons' Den.
Guzzo is the president and CEO of Cinemas Guzzo, the number one operator in Quebec and the third largest movie exhibitor in Canada with 141 screens: nine IMAX cinemas and ten locations with three more set to open later this year.
Read more about Guzzo at CBC.ca.