Philanthropist Perry Dellelce honoured for life of service
Honorary degree recipient delivers powerful message of 'service and success' to new graduates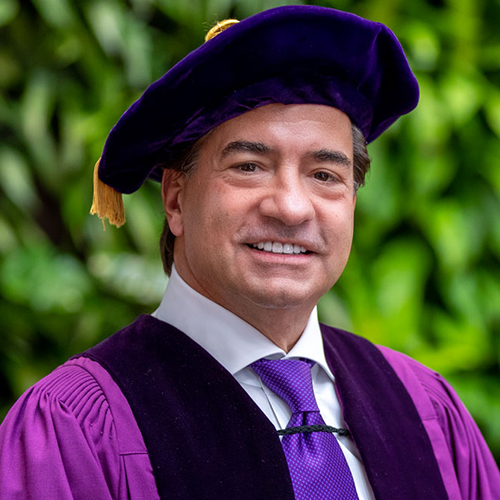 At the height of the 1980s Perry Dellelce, BA'85, graduated from Western. He was having "the time of his life," creating new friendships and bonds that have withstood the test of time.
"I look back on those years with complete fondness. Even to this day, when September rolls around I feel that familiar pull to be back in school," said the social sciences graduate.
The smell of paper, lead pencils and the aged wood of Sydenham Hall, where he lived on campus for three years, is still etched in his memory. "I remember the camaraderie at residence. There was this ingrained sense of tradition, but it was infused with youth and vibrancy. It was everything a university experience should be."
Western advocate
Still very closely connected to friends and alum from Western, Dellelce credits the university's commitment to strong foundations and unparalleled education as the main contributors to a student's success.
"The ability to grow lifelong friendships and complete a fruitful education was evident in Western's culture right from the start," said the founder and managing partner of Wildeboer Dellelce LLP.
Earning a bachelor of arts from Western, a master of business administration from the University of Notre Dame, and a bachelor of law from the University of Ottawa, it was clear from a young age that Dellelce was dedicated to education. He was called to the bar in 1992.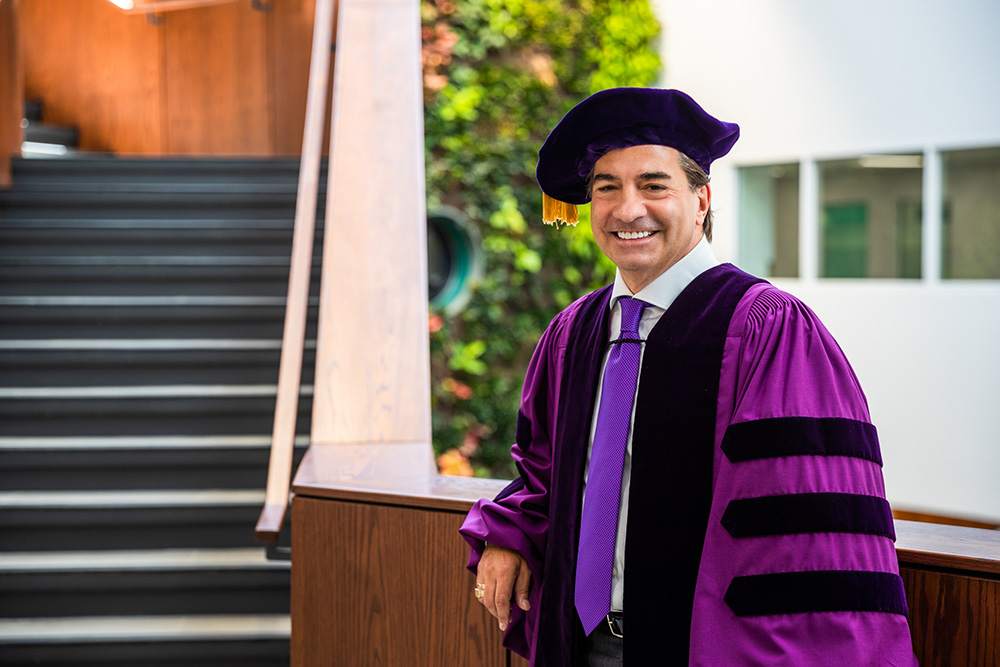 "My time in university shaped me. It helped me to be an involved young member of society. I was engrossed in initiatives across Western and participated on student council. My philanthropy and charitable work began at Western. I built such a strong bond with the university and my undergraduate friends – it was these life-long relationships that inspired me to give back to education. Staying an active member of the university and being connected to my alma mater is very important to me."
And connected he remains. His contributions to the university are too numerous to list but Dellelce continues to be one of Western's strongest advocates, strengthening the academic mission of the institution through enduring volunteerism, involvement and philanthropic support.
Dellelce has been known to say how much he would love to return to school – and 37 years post-grad, he will be gracing Western's doorway once again. As an honorary degree recipient, Dellelce walked across the stage, as he did in 1985, but this time in recognition of his distinguished contributions to Western and beyond.
"To be bestowed with an honorary doctorate is a lifetime achievement I never dreamed of. Especially from the best university in Canada and in the world," Dellelce said smiling.
Full circle
Growing up in a family dedicated to community service, Dellelce and his wife, Sue, both strive to continue that legacy. "I believe every one of us should dedicate a significant part of their life to community service. It has been the cornerstone of my personal and my professional life."
Dellelce admits returning to Western to receive an honorary degree makes him happy. "Being on campus in this capacity brings back so many good memories. I feel so privileged to have come full circle and have my journey return me to Western."
"We are thrilled to celebrate Perry as he receives his Honourary Degree," said Jeff O'Hagan, BA'93, vice-president, University Advancement. "Perry is undoubtably Western's most successful and hardest-working fundraising volunteer. His tremendous efforts during multiple fundraising campaigns and initiatives have resulted in tens of millions of dollars in philanthropic support for our students, faculty and researchers. Perry leads by example and his generous gift of his time and leadership are unparalleled. We are forever grateful for his decades-long commitment to his alma mater. Western is forever changed as a result of his service."
When the advocate for lifelong learning was asked to prepare an acceptance speech to be heard by graduating students, Dellelce pondered. "What could I possibly say that would inspire them?"
During his address, students chuckled as he poked fun at himself for not making it into law school at Western – five times. Yet, here he was accepting an honourary doctorate from the Faculty of Law.
He impressed upon the new graduates the importance of perseverance. "Ask yourself, did you give it that extra effort when everyone else gave up? A never-quit attitude will ultimately result in success." This was true for Dellelce who spent much of his career breaking boundaries with gratefulness, grit and tenacity.
He continued to address the graduates on two other important factors – the need to always be open to learning new things from each other, and the fulfilment giving back can bring. "You can live a life of service and success. They work together. Whether it is your time, your faith, your money or your friendship, always give back in a meaningful way."
Dellelce hit the convocation stage on June 24, beaming in his cap and gown. One could only wonder if he could faintly smell the aged wood of Sydenham Hall as he accepted his degree in front of his former residence roommates who were looking on with pride from the front row.