Lasting connections
By Keri Ferguson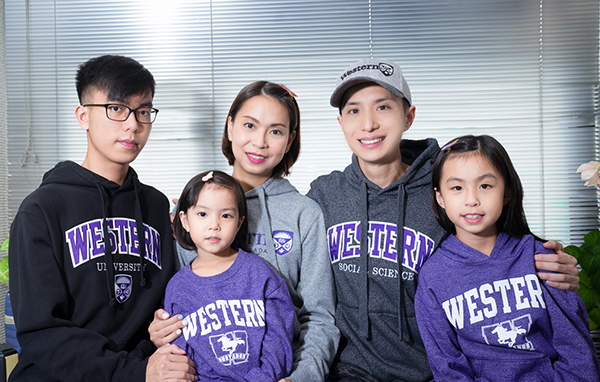 When Kant Chong first arrived at Western 20 years ago, it would have been easy to keep to himself. Far from his native Hong Kong, not only was he a new student, but a new father, managing family matters from afar. He was also taking care of friends who followed him to Western, helping them with their student visa applications and housing arrangements while managing his studies.

But those responsibilities didn't keep the current Western Alumni board director from reaching out and connecting with students, a practice he continues to this day.
"During my first year, we successfully recruited 500 members to the Asian Club," said Chong, BA'03, who began his studies at King's University College, on his way to earning his economics degree.

The Asian Club grew to become the Asia Academic and Career Foundation, which still operates today, with the goal of helping graduates of Canadian universities build their career networks in Asia.

Now a father of three, the accomplished corporate and investment advisor and director of numerous overseas and domestic corporations still makes time to mentor young people and maintain his ties with Western.

As a past King's Young Alumni Award recipient, Chong enjoys engaging students throughout all steps of their journey with his alma mater. He meets with them before they embark on their studies, "giving them advice about how to thrive while in Canada and at Western," and welcomes them back to Asia Pacific as marshal of the university's Hong Kong Convocation Ceremonies.
Serving as a bridge between the university and Hong Kong, Chong connected Western to the President of the Hong Kong Baptist University (HKBU), which allowed for the BMOS summer program to take place at HKBU last year. Serving as a mentor and judge of case competitions, he also generously supported a cocktail reception for the students.

Although he pursued graduate studies through other universities and professional institutes, Western holds a special place in Chong's heart. When he was considering his postsecondary options two decades ago, it was "the kindness of the group at King's, especially Marilyn Mason (then registrar, and current vice-principal, enrolment services and strategic partnerships), and (associate registrar) Tracy Erb who made all the difference" in influencing his decision to choose Western.

Once here, it was King's former vice-principal and academic dean Sauro Camiletti, who made a lasting impression, and in whose class, Chong earned top marks. "He taught me calculus and was so patient and encouraging. Even though I have many friendships and a large network of contacts, he remains very special."
Chong's deep affection for Western saw he and his wife Virginia return to campus in 2014 to celebrate their 15th wedding anniversary. With two of their children and close friends by their side, the couple exchanged vows in a ceremony at Windermere Manor, officiated by King's chaplain, Michael Bechard, BA'91, MDiv'94.

Today Chong is President of the Canadian University Association, a platform for all Canadian universities' Hong Kong alumni chapters. The Association works closely with Canada Consul General Jeff Nankivell, whom Chong has invited as special guest to the upcoming Western Alumni Gala Dinner in Hong Kong on Sunday, November 28.

The gala event, hosted by Chong and Hong Kong Branch President Simon Yu, BMOS'11, will also include virtual greetings from Western President Alan Shepard.