2019 Alumni Award of Merit recipients announced
The Alumni Association recognizes alumni who have made outstanding contributions to their professions or communities.

Western's Alumni Association is pleased to announced the 2019 Alumni Award of Merit recipients. The Alumni Award of Merit is an annual program recognizing alumni who have made outstanding contributions to their professions or communities.
Hanny Assaf Hassan, C.M., BESc'64
Dr. Ivan Smith Award, Alumni Award of Merit 2019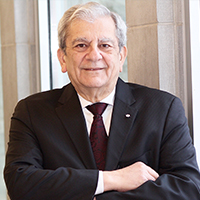 Hanny Assaf Hassan, C.M., BESc'64 (Civil), is a consulting engineer and long-time advocate for promoting understanding between cultures and religions. He has been active in everything from grassroots organizations that help immigrants, to the National Muslim Christian Liaison Committee and its efforts to facilitate dialogue between Muslims and Christians.
After graduating from Western, Hassan earned his Master of Engineering from Dalhousie University in 1971. He advanced through the ranks at Dillon Consulting, a major professional engineering consulting firm, where he served as a director and a partner until his retirement in 2002. He now manages an independent consulting engineering practice, Alef Consulting Inc., in London, Ontario.
Hassan was appointed by Western's Alumni Association as the Alumni representative to the University's Board of Governors in April 2009. He served on various committees and as Vice-Chair of the Board from 2014 to 2016, then as Chair 2016 to 2017. He retired from the Board of Governors in April 2018.
Hassan has a long and distinguished career in community service, including significant contributions to the Muslim and Arab communities, of which he is a member. He has been a frequent speaker and lecturer to schools, universities, church groups, service organizations and the business community, focusing his energies on equity, interfaith and multicultural subjects.
Hassan is currently a Director at St. Joseph's Health Care in London and past affiliations include Chair, Ontario Judicial Appointments Advisory Committee; Director, Innovation Ontario; President, Ontario Advisory Council on Multiculturalism and Citizenship; and Adjudicator, Canadian Broadcast Standards Council. He served as President of the Council of Muslim Communities of Canada for almost two decades and has worked on advisory committees for OMNI Television and the Attorney General of Ontario.
Hassan has been widely recognized for his service. In 2011, he was named a Member of the Order of Canada and in 2013, he received the L.S. Lauchland Medal from Western's Faculty of Engineering for outstanding contributions to the engineering profession, business leadership and community service. He was also named an Honorary Fellow of St. Michael's University College at the University of Toronto for his work in advancing Catholic – Muslim relations.
Hassan and his wife Najet live in London and are active members of Western's Senior Alumni Program.
The Dr. Ivan Smith Award is named in honour of the Alumni Association's first president, who was also a pioneer in cancer research and treatment. This award is Western Alumni's highest tribute, recognizing significant and sustained contributions to the Alumni Association, The University of Western Ontario and society.

Fred Possmayer, PhD'65
Professional Achievement, Alumni Award of Merit 2019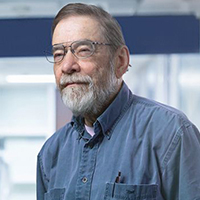 Taking their first breaths of air could be a big challenge for premature babies until Fred Possmayer, PHD'65, discovered a life-saving technique that changed everything.

Following completion of his undergraduate training in biochemistry and physiology at the University of Toronto, Possmayer completed his PhD in biochemistry at Western University. He continued his training at the University of Cologne (Germany), University of Utrecht (Netherlands) and the University of California (Riverside) before assuming academic appointments back at Western in 1971.

At Western, he began his research into pulmonary surfactant — a surface tension-reducing substance that forms a very thin film on the surface of lung alveoli. In full-term babies and health adults, surfactant prevents our lungs from collapsing when we breathe. Possmayer's laboratory developed techniques to purify and sterilize lung surfactant, a ground-breaking advance that enhanced the survival of countless premature babies who experienced Respiratory Distress Syndrome because their lungs were too immature to produce their own surfactant. The surfactant is extracted from cow lungs and is known as Bovine Lipid Extract Surfactant (BLES).

BLES is now used in over 99 per cent of neonatal intensive care units in Canada and in 20 other countries to treat premature infants in respiratory distress. Since the late 1980s, BLES has saved literally thousands of newborns from certain death.

Possmayer sold the patent for his novel technique for a nominal fee, with the understanding that BLES would be made available to newborns at minimal cost. To this day, it remains one of the least expensive surfactant preparations in the world.

In recognition of his work, Possmayer has received one of the "Top Canadian Achievements in Health Research Awards." The Council of Ontario Universities voted his work one of the "Top Five Game-Changing Discoveries in Ontario" over the past 100 years.

His published works, numbering more than 320, are considered landmark contributions and have been cited almost 10,000 times.

Possmayer is a role model for students and faculty alike and displays an unwavering and infectious enthusiasm for discovery. He continues to participate regularly in research events across the city. Beyond science, he is an avid tennis player, fly fisherman and, along with his wife Mary, a supporter of the arts.

The impact of Possmayer's work cannot be understated. His bold and ground-breaking contributions have saved thousands of lives around the world and will continue to do so for generations to come.



The Professional Achievement Award recognizes superior achievement in a professional field. The recipient is a role model for newcomers and sets standards of excellence to which others can aspire.

Lois Elliott Fraser, HBA'77, OMC
Community Service Award, Alumni Award of Merit 2019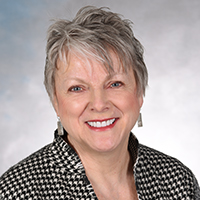 Lois Fraser, HBA'77, OMC, started volunteering as a student at Western and has never looked back.
For more than 45 years, Fraser has volunteered in various capacities with her campaigns running the gamut from performing arts, heritage projects, Remembrance Day ceremonies and environmental concerns.
Many of Fraser's associations have been long-term commitments. A 35-year volunteer association with Georgetown Globe Productions saw her serve as a board member, volunteer and a ten-year president. Similarly, she was co-founder and manager of the Georgetown Children's Chorus for 25 years. She also organized four International trips for the choir, which had over 2,000 members (ages 5-18) over the years.
Her passion for community involvement took hold at Western. She participated in Purple Patches shows on campus, wrote for the Ivey Business School student newspaper, Dollars and Sense, and helped organize school celebrations and Homecoming festivities. Off campus, she volunteered with autistic children at the London Psychiatric Research Institute.
Fraser was also an excellent student, named to the Dean's Honor List. In 1977, she was nominated by Ivey for a Rhodes Scholarship, which she declined to pursue.
After Western, Fraser began a lifetime of giving in her hometown of Georgetown, Ontario. While immersed in community work, she and her husband Al, a pharmacist, raised their five children. Fraser often recruited her family to help out at various functions and fundraising appeals. Today, her children carry on the family tradition, finding ways to contribute in their respective communities.
In 2014, Fraser's volunteer work was recognized by the Government of Ontario, as she was awarded the Ontario Medal for Good Citizenship.
As Chair of the Heritage Foundation of Halton Hills, she is currently spearheading the campaign to create the Lucy Maud Montgomery Museum and Literary Arts Centre in Norval, Ontario where the famous author lived from 1926 to 1935.
Not only is Fraser a force of nature in the volunteer world, she has made her mark in business. In 2000, she and her husband founded Fraser Direct Distribution Services, a supply chain and logistics provider that today employs 138 people. In 2017, Fraser was named in the Top 100 Canadian Women Entrepreneurs by Canadian Business Magazine.
Fraser downplays her accomplishments, attributing her success to simply being "lucky in life." Others see the steely determination, generous spirit and inherent altruism that defines the family role-model, community advocate and savvy entrepreneur.
This Commmunity Service Award pays tribute to alumni who have made outstanding volunteer contributions to their community. They have enriched the lives of others through their generous gifts of time and talent and their involvement with civic, charitable and social causes.
Boluwaji Ogunyemi, BSc'08
Young Alumni Award, Alumni Award of Merit 2019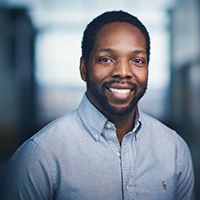 Dr. Boluwaji Ogunyemi, BSc'08, is considered one of the most versatile young physicians of his generation. He is an accomplished dermatologist, a scientific researcher, a writer, and an experienced leader and administrator.
Dr. Ogunyemi's journey began when, as a young boy, his Nigerian parents immigrated to Canada. He earned a BSc in sociology and medical science from Western University before attending medical school at Memorial University of Newfoundland where he completed a graduate diploma in clinical epidemiology and a Doctor of Medicine (MD) degree.
He followed that with a five-year specialization in dermatology at The University of British Columbia, where he was honored as chief resident in the department of dermatology and skin science. Today, Dr. Ogunyemi is a clinical assistant professor of medicine at Memorial University and a board-certified dermatologist.
While completing his training, Dr. Ogunyemi was considered a leader and advocate for his medical community. He served as president of the Medical Student Society at Memorial, as director of communications for Resident Doctors of British Columbia and on the board of directors of the Canadian Dermatology Association.
Dr. Ogunyemi has been published in several peer-reviewed scientific journals and regularly presents at international conferences. He is one of the few Canadians to be selected as a TEDMED© Research Scholar and has been named a National Institutes of Health-National Medical Association Scholar.
In addition to being a physician, advocate and researcher, Dr. Ogunyemi is a versatile communicator. The recipient of the Harry Jerome Award in Health Sciences, he regularly writes about issues related to diversity, inclusion, social justice and medicine and has been published in The New York Times, Huffington Post, and The Globe and Mail.
Dr. Ogunyemi is also committed to his local community. He spends time mentoring youth from rural communities, minority groups and socioeconomically disadvantaged backgrounds and regularly travels to western Labrador to provide care in remote communities. He was recently awarded the American Academy of Dermatology 'Members Making a Difference' Award, The Royal Bank of Canada Top Canadian Immigrant Award and the Harry Jerome Award in Health sciences.
Dr Ogunyemi has been selected to give high-profile speeches including the 2018 Royal College of Physicians and Surgeons Convocation address, a TEDx speaker and a speaker at the Atlantic Immigration Summit
At a young age and early stage in his career, Dr. Ogunyemi has already made meaningful and far-reaching contributions. He credits his parents, his earliest and greatest role-models, for instilling in him the importance of hard work, dedication and sacrifice.
The Young Alumni award recognizes significant contributions by an individual in their field of endeavour, whether through professional achievement or community service. The recipient is aged 40 or under, and sets an inspirational example for future young alumni.

***

The 2019 recipients will be honoured at the Alumni Awards & Volunteer Recognition Dinner Friday, June 7, 2019 at The Great Hall. Nominations for the 2020 awards close Friday, November 29, 2019.
For more information, please contact Susan Henderson, Alumni Engagement Officer, at 519-661-2111 x85871, 1-800-258-6896, or susan.henderson@uwo.ca.