Singapore
Alumni Ambassador
Your Alumni Ambassador can help you: expand your local network; make connections with fellow alumni; bring your ideas back to campus; and keep you informed about upcoming alumni events and initiatives. Connect today!
---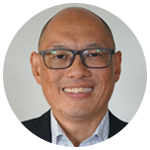 Woon Chet Choon (Chet), MBA'94
Profession: Corporate trainer, coach and facilitator
Interests: Entrepreneurship, movies, screenwriting
Email: wooner@groomtalent.com
WhatsApp: +65 97608681

I'm an Alumni Ambassador because: "I had a wonderful time at Western. I strongly believe in the value of networking and look forward to connecting alumni in Singapore with each other, and showing off our beautiful city to alumni who have recently moved here."
---
Mickey Kasemphaibulsuk, BESc'09
Profession: Business Development Manager, SFL Asia Pacific, Canusa-CPS Asia Pacific
Interests: Hiking, cooking, baking, tennis
Email:
nkasemph@gmail.com

I'm an Alumni Ambassador because: "Western helped shape my future and led me to where I am. I consider my years at Western as one of the most precious time of my life. It is an honour to be part of the Alumni Ambassador program, where I will be able to welcome and provide support to new Western students and alumni."
---
Upcoming Events
Check back regularly for upcoming events!
Past Events