Want to use LinkedIn better? Get into the newsfeed.
Want to use LinkedIn better? Get into the newsfeed.
Written by Jennifer Urbanski BMOS '09
I get a lot of questions from my clients and connections on how to use LinkedIn better. The reality is the platform has changed to be a newsfeed environment. The days of having the perfect profile are over. Your profile is simply your ticket into the newsfeed (same goes for a company with a company page). If you populate the basics on either a profile page or company page, you're done. The real key is getting into the newsfeed and using content to engage with your network and build your professional brand.
If you're already using Facebook or Twitter on a regular basis, you're going to understand how to use LinkedIn quickly. If you're not, no worries, you can easily learn. If you actually take the time to log in and explore the site, you'll see that it's pretty intuitive and the user experience is easy to navigate.
What I always tell people who are asking me how to use LinkedIn is to do just that... use it. The bottom line is, you want to share and engage with content (engagement means to like, comment or share the articles you are seeing in your newsfeed). You can also publish long-form posts that are essentially blog posts hosted on the LinkedIn platform and off your member profile page. But long-form content is sort of an intermediate level - the first and most important step is to become comfortable sharing and engaging with content in the newsfeed.
Here are some tips and common mistakes that should help you in the process:
Link sharing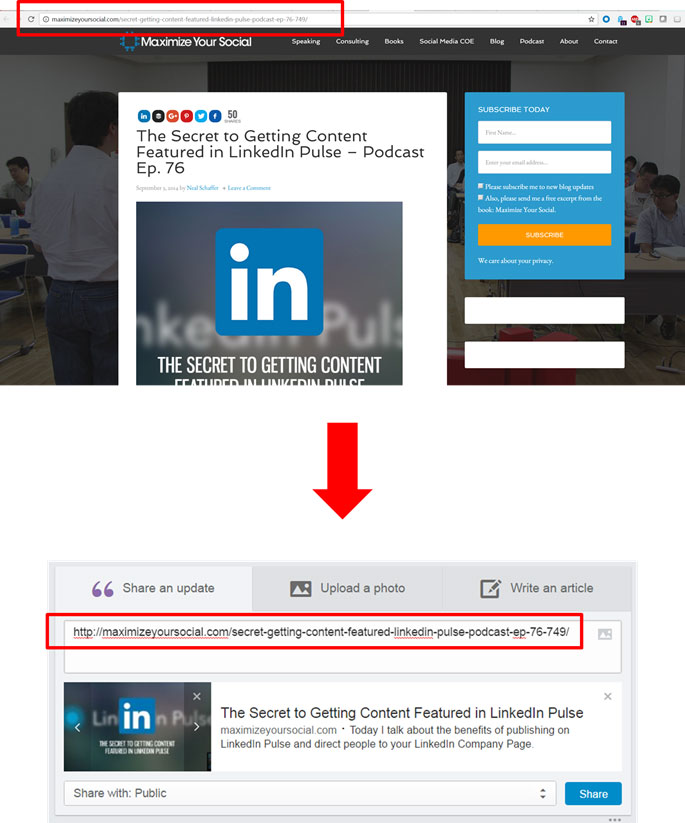 Did you recently see an article online that you find interesting and want to share with your network? Simply copy the landing page URL and paste it into the update tool on Linked. An image, headline and description will automatically populate from information being pulled in from that page. Hit 'share' and it will now show up in the newsfeed of people in your network and in your "recent activity" on your member profile page.
Edit your shared links
If you want to improve the appearance of the shared links I just described above, you can edit the image, headline and description before posting. I often do this with my posts to improve the picture or text shown in a way that will be more interesting for my audience and grab more engagement.
To edit the text, simply hover over the text area and double click for the edit option to open. For images, I recommend you remove thumbnail images and replace with larger, embedded photos. To do this, you can click the X in the top right-hand corner of the image to remove/delete it. From there you can click the landscape image attachment icon (in the old LinkedIn experience) or the camera icon (in the new LinkedIn experience) in the top right-hand corner of the update field and upload an image from your computer.
Ensure this image is within LinkedIn update specs so that it will take up the entire real-estate of the updated field in the newsfeed. Posts with embedded rich media look much better in the newsfeed and garner much higher engagement. I also recommend replacing images that are auto populated if they aren't interesting or aesthetically pleasing.
Follow image size specs
Any content you post is a reflection of you as a professional. Plus, you should care about your audience/network. Don't post images that are blurry. Don't post images that have too much text or are hard to read (over 50% of LinkedIn's traffic is accessing the newsfeed from their phones so always consider how something will look on mobile). And post images that follow sizing specs so they appear perfectly within the newsfeed.
Here are LinkedIn's update sizing specs for images:
Image Display Size:
1.91:1 ratio (1200x627px)
Image must be above 200px in width.
Images on mobile will not be cropped. Images of other ratios will show in full with subtle white padding.
Example blurry update: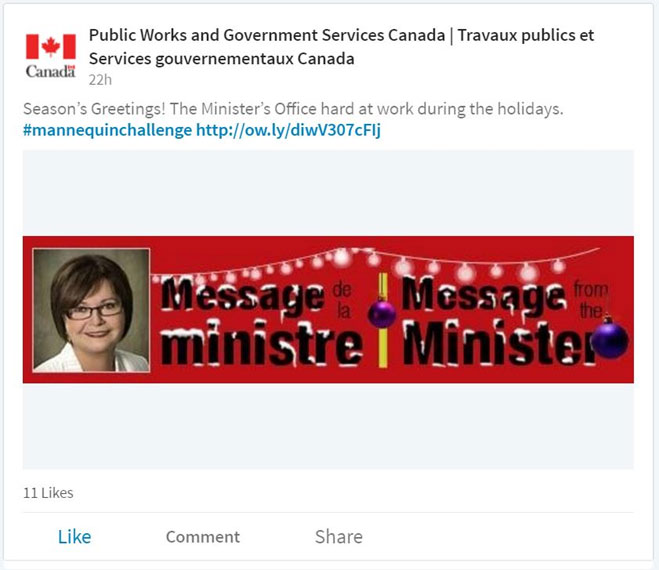 Keep intro text short - under 150 characters.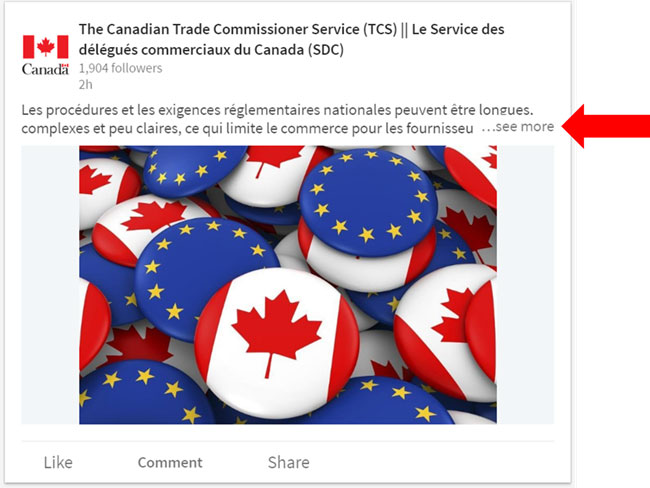 Intro text is the caption or comment you include with an update you are posting. Updates within the newsfeed have a 150 character limit before they get truncated and a little "...see more" option is offered to readers. Most users won't click to see more. That means the challenge for all of us is to be brief, direct and to the point so our audience gets it upon first glance. This is not the place to rant, debate or go in-depth on an issue (use the long-form posting feature for that).
With newsfeed updates, keep your header/intro text to 150 characters or less. Landing page URLs count towards your character length and any URLs longer than 23 characters will be shortened by the LinkedIn shortener. An easy cheat is to use the same text you would have used for a post on Twitter (if you're used to posting there). You can also use the Twitter text window for as a character-count tool as LinkedIn doesn't currently offer this in the update box.
Engage with content coming from you network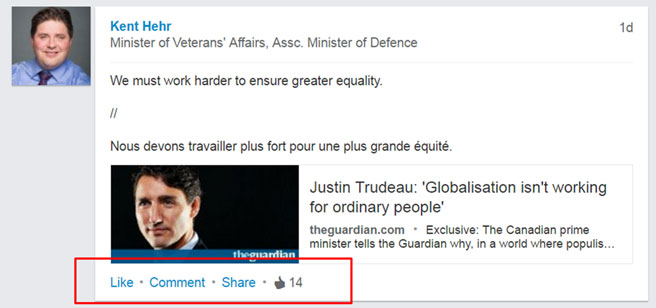 You will see articles and engagement in your newsfeed coming from the members you are connected to or companies you follow. You should 'like' something if you find it interesting, leave a comment if you want to contribute or choose the 'share' option to showcase it to your network. Anything you engage with (like, comment or share) will then appear to your network in their newsfeed.
Share links or engage with content at least once daily or five times per week
Notice how newsfeed content brings those people or companies top-of-mind to you as a user? This is the benefit of being in the newsfeed because it does the same for you with your network. I recommend logging into LinkedIn daily for at least 5 minutes to share, like or comment on at least 1 piece of content. A good rule of thumb is to post or engage with content on LinkedIn at least 5 days a week. And don't just think you have to stick to the work week - many LinkedIn members log onto the platform on Saturday and Sunday. This level of activity will help to increase your content score (ie. how you are going to show up more and more often in your networks' newsfeed based on LinkedIn's algorithm) and keep regularly keep you top-of-mind with your network connections.
Tag members or companies you mention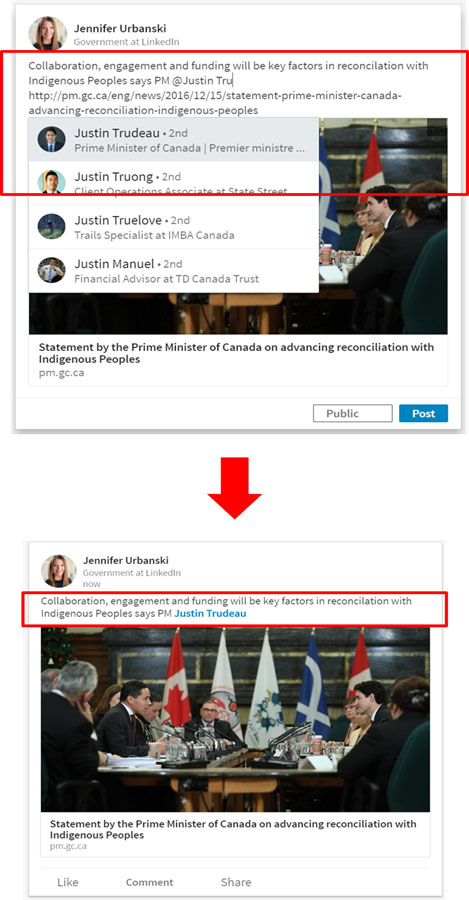 If you mention another member or company tag them by typing @member name or @company name and a drop down list will appear for you to choose the right person or company. Once you make this choice, the @ symbol will disappear. This helps to promote visits to those users and encourages them to hopefully do the same with you. This could also help to increase your content score and leverage the popularity or relevance by association
Use video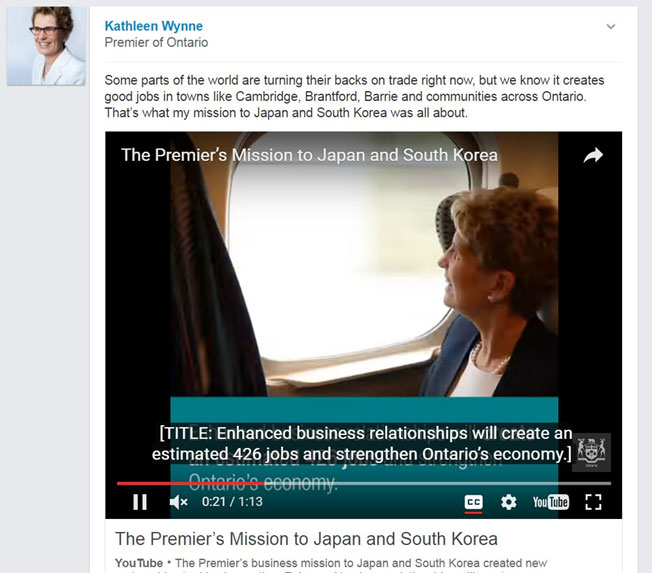 Not surprisingly, video performs super well in the LinkedIn newsfeed. Simply pull in the landing page URL from a video hosted on YouTube or Vimeo to share it with your network.
Re-purpose content from other social channels
Posting content on LinkedIn doesn't have to be an overwhelming exercise. If you're already active on Facebook or Twitter, you can often use the exact same content there on LinkedIn. In fact, I often see content posted on other social channels that would be more appropriate for LinkedIn's business audience.
Here's an example I often share with my clients from Canada's Department of Innovation, Science and Economic Development who is notorious for not following best practices for organic content posting on LinkedIn:
You can see that the Facebook images are clean, easy to read on mobile and are customized to cater to a business audience. The posts on LinkedIn are text heavy, have weak, generic thumbnail images and not intuitive upon first glance. The exact same images they have posted on Facebook could be posted to LinkedIn (which would provide a nice little A/B test to see which platform delivers better performance).
Follow the Leaders
It's a great idea to choose to follow colleagues and peers within your industry who are pros at posting engaging content. By following their activity, you will be exposed to examples of how to do it best. As a bonus, you can also engage with their content to amplify it out to your network.
LinkedIn also recently posted tips and tricks from top LinkedIn Influencers on how to craft the best long-form posts. Check out this link to get the scoop: LinkedIn's Top Voices: Tips to Make Your Writing Stand Out