Alumni answer the kindness call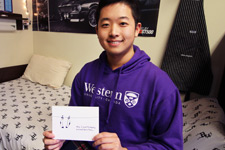 For the second year in a row, alumni from around the world participated in Western's Kind Mail project, writing notes of encouragement to students living in their old residence rooms (and off-campus as well) during the stressful holiday exam season.
This year, the three-day digital campaign saw 1,372 pieces of Kind Mail sent to students from alumni in 17 different countries. The project was covered by AM980 Radio, the Western Gazette and CBC Radio.
"I felt really happy receiving the Kind Mail! I emailed Mr. Gerson and he replied to me! Turns out that he was not only a Western alumnus, he's also a Professor here. I think Kind Mail is a good way to give first-year students a goal to work towards by setting them up with a role model. It's a good way to build connections between the current students and Alumni."
- John Chen, Medway-Sydenham Hall Kind Mail recipient
"It felt very fun to get Kind Mail, I really felt that I was able to have some insight into the life of another person on the other side of the globe. It was also nice to see that the legacy of my new home lives on, and that people have enjoyed it in the past as much as I do right now. I think the Kind Mail program is excellent, it really strengthens the feeling of community and is a really fun surprise to receive. I would describe kind mail as a kind personal message from a total stranger who has lived where you are now."
- Liam Cronin, Saugeen-Maitland Hall Kind Mail recipient
See below for Kind Mail messages of support from alumni to students: