Dentistry: A family affair
By Jesica Hurst, BA'14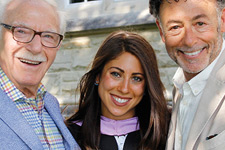 For as long as Dr. Jessica Gold, DDS'16, can remember, dentistry has played a big role in her family's life.
"I remember attending family gatherings and overhearing my father and grandfather talking about dentistry in such a positive way," she recalled. "My mother and grandmother would joke that it was the only thing they could talk about, but I loved that it could bring parts of my family together in that way."
A recent graduate of Schulich Dentistry, Dr. Gold now contributes to all of the dentistry-related conversations that take place around the dinner table — something she has wanted to be able to do since she was a child.
And the young dentist certainly brings a new perspective to these discussions, as many advances have taken place in the field since her father and grandfather graduated from McGill University's dental school many years ago.
When Dr. Gold's grandfather, Dr. David Kaplansky, entered dental school in the late 1940s, he had just returned home after serving in World War II with the Royal Canadian Air Force. At that time, the polio vaccine had not yet been invented, space exploration had yet to take place, and the Internet and mobile devices were nowhere in sight. It would also take close to a decade before a fully-reclining dental chair would be released for commercial practice.
"When I first started my career, there was no such thing as implants or lasers," said 92-year-old Dr. Kaplansky, who worked at his practice for 54 years. "When I go into my son-in-law's practice now, it is a whole new world. If I were younger, I would love to keep learning about all of the new techniques and materials being used today."
But even Dr. Jessica Gold's father, Dr. Frank Gold, noticed differences in the content his daughter was being taught in dental school. He explained that while the 'meat and potatoes' of dentistry have remained the same, technological progress and culture shifts have had a tremendous impact on the field.
Dr. Frank Gold continues to take part in continuing education to keep up with the latest progress in the field. Some of that continuing education even stems from phone calls with his daughter.
"I've already learned a lot from Jessica from the conversations we have had about cases we've each worked on in the past few years," he said. "One of our discussions actually led me to take a course on something I never used to do, and now I'm actually doing the procedure regularly."
For someone straight out of undergraduate education, entering a challenging and competitive field can come with its ups and downs. Now completing a general practice residency at Tufts University in Boston, Massachusetts, Dr. Jessica Gold explained it continues to be such a blessing to have mentors outside of the classroom that she can turn to for professional and personal support.
"As I went through dental school, I started realizing what an incredible asset it was to have both my father and grandfather there as role models and teachers," she said. "We all have our friends, classmates and professors, but it has always been really nice to be able to talk to them about what I was learning and to involve them in the process."
And in the near future, Dr. Jessica Gold will be taking that professional relationship even further by associating with her father's dental practice in Oshawa.
"It has been a tremendous amount of fun to be able to bond with Jessica over this passion that we have," Dr. Frank Gold said. "On a personal level, she is a great kid and I love being around her. But she's also an excellent dentist, and I look forward to working with her outside of our phone calls and the conversations we have at family dinners."