Canada Post celebrates alumna's operatic career
By Krista Habermehl, MA'05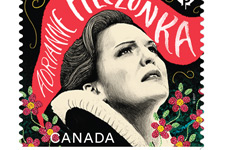 John A. Macdonald. Terry Fox. Frederick Banting. Bryan Adams. The Queen.

Their likenesses have all appeared on a Canadian stamp.

And now, Western alumna and Canadian opera singer Adrianne Pieczonka, BMus'85, DMus'12, will join them.

"It's surreal. There are a lot of historical figures that end up on stamps, but I don't know that there are a lot of people alive who would figure into that – it certainly was a huge shock for me," said Pieczonka. "I don't know how these things come about, but it's a combination of feeling humbled and a 'My goodness, are you sure?' kind of thing."
Pieczonka's stamp is one of five Canada Post will issue in time for the 2017 opera season and is part of a collection that celebrates two Canadian-penned operas and individuals credited with bringing modern Canadian opera talent to the world stage.

In her 30-year career, Pieczonka has graced leading opera stages in Europe, North America and Asia. Praised for being "luminous" and "radiant" on stage, in 2007, the soprano was named an Officer of the Order of Canada, an honour recognizing a lifetime of outstanding achievement, dedication to the community and service to the nation.

"In Canada, we think of hockey and sports, but the fact they're celebrating Canadian opera for the sesquicentennial is really wonderful," said Pieczonka. "I really must thank Canada. I received the Order of Canada, which is a huge honour and, now, to be on this stamp – Canada is doing a wonderful job in recognizing me. That sometimes doesn't happen. I feel humbled and extremely blessed."

Pieczonka's now celebrated career germinated in her early teens in Burlington, Ont., where she first took an interest in voice lessons. She always had a keen interest in music but grew tired of piano lessons and wanted to try something new.

"I loved radio music, the Sonny and Cher Show and The Carol Burnett Show. I also had a huge love for Julie Andrews and Liza Minelli. I think my first dream was probably to have been a Broadway star. My parents weren't necessarily into opera, but they brought us to the Hamilton Philharmonic and that exposed me to the classical side of things," Pieczonka said.

As her lessons progressed, she took an interest in high school musicals, choir and band. Her voice was emerging and started to draw attention.

"By the time I had enrolled at Western, people could hear there was a voice, and maybe a sizable voice – or at least the potential was there. It's a long process. The body needs to mature, so you don't really know if you've got the goods until your late teens."
After completing her undergraduate training at Western, Pieczonka received an operatic diploma from the University of Toronto. She launched her career as a professional opera singer at the age of 25 in Europe, after applying for and receiving a Canada Council for the Arts grant. After entering a number of competitions – and winning one in Holland – she was recruited to audition at an opera house in Vienna, Austria. She was hired on the spot and spent the next 20 years making a name for herself across Europe.

"I found myself, at the age of 27, singing at the Vienna State Opera and performing with some iconic performers," Pieczonka said. "Never in my wildest dreams did I think it would be Vienna. It's a very auspicious, interesting place. It's the birthplace of Mozart and Schubert. All these traditions. That I was exposed to this as a young artist – it really helped form me. It gave me a lot of depth and interesting performing opportunities."

Pieczonka has since moved back to Canada, settling in Toronto with her wife Laura and daughter Grace. Over the last three decades, her career has continued to flourish; today, she finds herself inclined to slow down and spend more time at home.

"I'm gone for at least half the year. Although these long separations are something we've gotten used to, we're constantly trying to achieve balance. Sometimes, I think, 'why don't you go down to the beach, relax and bask in your achievements?' But to quote my colleague and friend Plácido Domingo – 'If I rest, I rust.'

"I understand how it's difficult to give it up. It's addictive – the applause and the music. It's so wonderful. But, you don't want to continue past your prime and have people say, 'I heard her when she was good 10 years ago.' You want to make the right decision and phase out gracefully."

This month, Pieczonka will play a leading role in Beethoven's only opera, Fidelio, at the Metropolitan Opera House in New York City. She will perform with the Canadian Opera Company in Tosca in the spring and will fly to Munich in June. Pieczonka is looking forward to a cottage break with her family in the summer.