Staying on track: Alumni keep company running through pandemic cancelations
By Kathryn Kinahan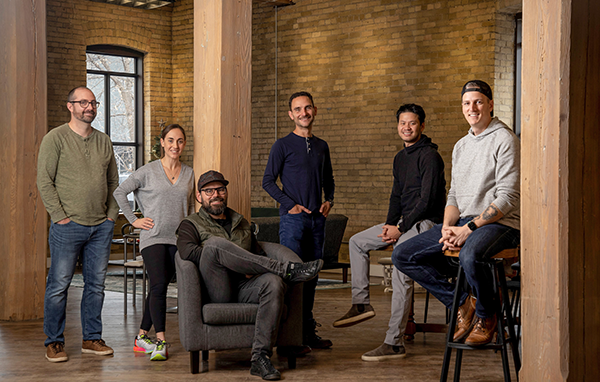 Their first steps as a company were a giant leap for an industry looking for a better solution. Now, as thousands of races have halted around the world, Race Roster continues to help the sport and its organizers stride into an uncertain future.
In the last decade, Race Roster has become a leading race registration platform helping millions of athletes register for running and endurance events while providing organizers with tools to manage all aspects of their operations.
Of the five childhood friends who founded the company, four are Western alumni, including Alex Vander Hoeven, HBA'05, MBA'11, CEO; Bob Pluss, BACS'05, CAO; Brandon Laan, BA'05, vice-president of sales; and Chanron Yin, BA'06, vice-president of product. Chantelle Wilder, Brandon's sister, attended the University of Hawaii on an athletic scholarship before returning to London in 2010.
The idea for the company was born when two of the friends decided to launch Rock the Road, an annual 10K road race in London, Ont. Early in the process, they realized existing race-organizing technology was severely lacking.
So the group built their own computer platform for the race and that platform gained popularity with other organizers in the tight-knit running community. Since then, the company has partnered with more than 5,000 organizers around the world, including the U.S., Canada, the UK and Australia.
Originally geared toward registration and fundraising, Race Roster now offers tools to manage all aspects of running and endurance events, from on-site registration technology and customizable results pages to volunteer management, digital marketing, and generating tax receipts.
In October 2019, the company was acquired by ASICS Corporation, a Japanese designer and manufacturer of performance athletic apparel and became Race Roster North America, allowing the company to maintain its autonomy and branding.
"We both agreed that was the right path," Vander Hoeven said. "ASICS saw an opportunity to invest in a digital service close to their whole brand mission. They wanted to help make the runner experience better and they saw through Race Roster an opportunity to do that."
The company continues to expand its footprint in London, moving into warehouse space on York Street right across from the VIA Rail train station (formerly called the Design House). They occupy all four floors of that building.
The COVID-19 pandemic, however, has changed the game – all the games, in fact, including the biggest races in the world.
Of the world's five major marathons, Berlin, Chicago and New York were cancelled outright, Boston went virtual and London went with an elite field only. Then there were the losses of the Olympic Games, as well as thousands of local races around the world.
"These events were already dependent on a whole bunch of things going right at a particular time, on a particular day, in a particular month. There's already a whole bunch of risk," Vander Hoeven explained. "But this has been unprecedented."
To manage through the crisis, the Race Roster team developed a toolkit allowing organizers to transition their live events into a virtual experience. Among its features, the toolkit enables racers to upload their results, with photo proof of their finish time, while organizers can customize the results pages and easily connect with registered participants.
Before the pandemic, these were considered "nice-to-have options," Vander Hoeven admitted. In just a matter of months, they have become vital.
"It certainly wasn't our focus," he said. "While the way we collect information doesn't really change, the way race directors have to think about marketing a virtual race versus one where runners show up in a community, run and feel the energy of a big crowd, that's the trade-off. That's the part that we're trying to re-create virtually."
Several major running events, including the Gold Coast Marathon, Calgary Marathon and Wharf to Wharf all went virtual this year with the help of Race Roster.
"When the industry comes back, virtual will be the contingency plan and runners will have to get used to that," Vander Hoeven said. "Obviously, the idea is to put on a race that gets attended. But if something unforeseen happens again, race directors are going to be better equipped, technology is going to be better, and runners are going to be more accepting of the idea. Virtual is going to be a reality of our sport."
Vander Hoeven sees this reality as an opportunity for growth, where companies like Race Roster can emerge as leaders. The biggest challenge to the shift, however, is not the technology.
"For it to work, you have to convince runners that the experience will be, while not the same, still a really great experience. The runners didn't originally sign up for a virtual race; they signed up to show up a start line with thousands of people and run through the streets of a city.
"We have to change that. We have to come up with a new experience that's just as exciting. That's not easy to do. That's not the business race directors got into originally. The whole business model has been disrupted. We have to adapt. It's really a different game now."