Sharon Cowin, BA'64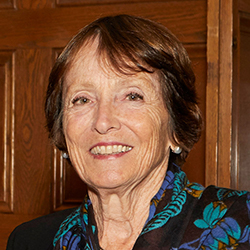 Recipient of the 2021 Dr. Ivan Smith Award
Now living in Sydney, Australia, Sharon Cowin has remained steadfast in her commitment to supporting Western – even from more than 15,000 km away.

During her six years on the Alumni Association Board, Cowin didn't let the 14-hour time difference stop her from being a strong voice for international alumni. She was ready, alert and engaged even when meetings started at six in the morning.

Cowin's "purple and proud" mindset took root when she was a student at Western. In addition to being on the varsity swim team, she was a yearbook volunteer and a member of the Purple Spur Society, a campus club with the mandate to foster school spirit.

Returning to London for Homecoming almost every year, Cowin has maintained connections with her classmates. She has volunteered at the Golden Anniversary Dinner by greeting guests, saying grace, and delivering class pins to fellow alumni.

As an honorary degree selection committee member, Cowin provided thoughtful commentary about who should be celebrated at convocation. She also participated in the Kind Mail campaign, boosting the spirits of future alumni during the stressful holiday exam season.

Cowin and her husband, Jack, have generously hosted many Western Alumni events at their home in Australia, strengthening bonds between graduates and their alma mater.

In their quest to help students become global citizens, the couple established the Jack and Sharon Cowin Scholars Award. The award supports Western students to attend Bond University in Australia while Bond students attend Western.

Sharon Cowin's volunteer and philanthropic contributions have touched the lives of many and enhanced both the alumni and student experience.