Dr. John Ciriello, PhD'79, MSc'77, BSc'74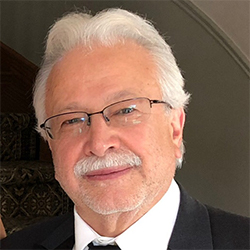 Recipient of the 2021
Professional Achievement Award
A three-time Western alumnus and a professor emeritus, John Ciriello is an innovative researcher with a remarkable capacity to unravel the complexity of cardiovascular disease. His research on hypertension, obesity and sleep apnea has had a far-reaching impact on health.

At Western, Ciriello progressed from assistant to full professor in only eight years, a testament to his superior research, teaching, and administrative accomplishments. During his 39-year career, he mentored thousands of students and post-doctorate fellows who have gone on to be successful in academia and industry.

Ciriello has shared his research broadly through over 100 invited talks, 11 books and more than 175 peer-reviewed manuscripts. His work has been cited more than 7,500 times, showing the extraordinary impact of his research.

Throughout his career, Ciriello has received numerous awards, including the Canadian Institutes of Health Research Scientist Award, Canadian Heart Foundation Investigator Award and the Heart & Stroke Foundation of Ontario Career Investigator Award. He is the only Western faculty member to obtain all three of these prestigious awards.

Ciriello has been honoured by the Canadian Physiological Society, the Canadian Hypertension Society, the Alberta Heritage Foundation for Medical Research, the International Union of Physiological Sciences and the Japanese Society for the Advancement of Science.

He was recently named a Fellow of the American Physiological Society, one of only five Canadians recognized at this level.

Ciriello's leadership has also extended to the London community through service as a speaker at research events and as a coach, trainer, and convenor for sports associations and judge at science technology fairs.