Avnish Mehta, BACS'02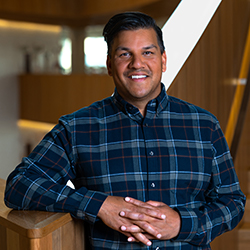 Recipient of the 2021
Community Service Award
Avnish Mehta's philosophy is that no matter the starting point, the goal is to move toward better. From day trading currency and commodity in Singapore to developing the Calgary Refugee Health Clinic, his focus is moving organizations—and communities—forward.

Mehta has built three successful companies in the last 15 years. Currently, he heads up Stand and Command, a presentation and public speaking consulting practice. He is also an owner of Village Brewery and is the chief strategy officer and co-founder of FARE Developments, which focuses on affordable and sustainable real estate in Calgary.

Born and raised in Calgary, Mehta loves his hometown and uses his business acumen, extraordinary networking skills and undeniable community spirit to strengthen the city. He believes deeply in equity and fairness, values that underpin both his business and volunteer activities.

Driven by his belief that libraries are the great equalizer, allowing everyone to find information on any topic they want to explore, Mehta has made a profound and enduring contribution to Calgary's public libraries. He has served as a member of the Calgary Public Library Board since 2012 and is the current chair. Mehta was a crucial player in the board's stewardship of the design, building and opening of Calgary's Central Library. The new library has won numerous awards and, in 2019, was described by Time magazine as one of the great places to visit.

Mehta's extensive volunteer commitments also include serving on the Calgary Folk Music Festival fundraising committee and the Bow Valley College community engagement committee and as a partner with Social Venture Partners Calgary, a non-profit that brings people and organizations together to address critical issues affecting Calgary.

He is described as a community connector who brings people together to solve complex problems while still being the neighbour who will shovel your snow. Through his many contributions to Calgary—as a volunteer and entrepreneur—Mehta builds a better community and inspires others to join him.